David A. Mazie
David Mazie is an acclaimed New Jersey trial lawyer and a senior partner in Mazie Slater Katz & Freeman. Mr. Mazie's adversaries are acutely aware that he will take his cases to trial if they do not settle for what he demands. His trial record is unprecedented as he won the two largest personal injury jury verdicts in New Jersey history, and he is the only attorney in New Jersey to have ever obtained a personal injury jury verdict in excess of $100 million. Mr. Mazie has more than 65 verdicts and settlements in excess of $1 million, including many settlements/verdicts in excess of $10 million.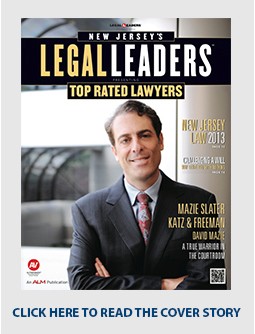 Because of his many accomplishments, Mr. Mazie has received numerous awards from the most prestigious legal publications in the nation. In 2005, the New Jersey Law Journal named Mr. Mazie as its Lawyer of the Year this was followed in 2014 with the New Jersey Law Journal naming Mr. Mazie to its Personal Injury Hall of Fame. Best Lawyers in America has named Mr. Mazie to its Lawyer of the Year list. Mr. Mazie also topped the Super Lawyers list by receiving more votes than any other New Jersey trial attorney on the New Jersey Super Lawyers list for three straight years. He also has been named by Super Lawyers to its "top ten" list on practically every year the list has been published. Super Lawyers Magazine has described Mr. Mazie as a "Warrior" who is "relentless, aggressive and creative." He has also been selected to Lawdragon's list of the 500 Leading Plaintiffs Lawyers in the country multiple times. Mr. Mazie has received many other awards such as being named Lawyer of the Year by ACQ Legal and Corporate Live Wire Magazine.
The following are some of Mr. Mazie's many accomplishments:
Click here to read about many more of Mr. Mazie's verdicts and settlements.
Mr. Mazie is routinely quoted in newspapers and magazines, and regularly makes television appearances regarding his cases.
View All Media