New Jersey Car Accident Lawyer
We have been very successful in obtaining substantial recoveries for our clients who are seriously injured in motor vehicle accidents, such as:
Results may vary depending on your particular facts and legal circumstances.
Car accident are common in New Jersey because the State is home to 8.8 million residents and a staggering 6.7 million vehicles. As the most densely populated state in the nation, New Jersey has more than its share of car crashes. Last year, 63,333 car accidents occurred on Garden State roads. Over thirty-five percent of these crashes happened in populous parts of Essex, Bergen, and Middlesex counties. Despite safety advances, 586 fatal automobile and truck crashes occurred, causing a total of 627 car related deaths.
We are NJ lawyers who specialize in car accident lawsuits. Recognizing our winning record and dedication to our clients, the Best Lawyers in America publication named our attorneys to it's Best New Jersey Personal Injury Lawyers list. Mazie Slater accepts all cases under a contingency fee agreement, meaning there are no fees until we win. This policy guarantees your case is pursued with the energy and devotion it deserves. Call us (973-228-9898) today — or fill out and email us a contact form –– if you would like to speak with an attorney.
---
Types of Car Accidents
Bicycle Accidents: When a car hits a bicycle, the bicyclist has little chance of escaping without serious injury or even death. Currently, more than 50,000 injuries are caused every year by motor vehicle and bicycle accidents, many of which were in New Jersey. Our New Jersey bicycle accident lawyers are very experienced in handling bike accident lawsuits. If you or a loved one has been in a bicycle accident with a motor vehicle that caused serious injury or death, protect your rights and contact the New Jersey law firm of Mazie Slater Katz & Freeman.
Bus Accidents: The statistics concerning bus traffic are staggering. Over ninety million miles annually are logged by some 2,000 buses operated by New Jersey Transit alone. Over twenty-five million children take the bus to class and back home every school day. Over twelve-thousand of those children are injured every year as a result of New Jersey school bus accidents. A bus accident can be catastrophic. The passengers can be seriously injured or killed, and the driver or passengers of any vehicles that are hit by the bus can also sustain life-changing or deadly injuries.
Drunk Driving Accidents: At Mazie Slater Katz & Freeman, we detest drunk drivers and will do everything in our power to make sure that they are forced to compensate their victims to the fullest extent possible. In fact, we have won the largest drunk driving lawsuit in the historyof the United States. At the time, this was the largest personal injury award in New Jersey history. Our team is extremely experienced in suing drunk drivers and making them pay. We aggressively handle each case from the beginning and we won't let up until the case is settled or goes to court.
Distracted Driving: Distracted driving is serious business. Car accidents caused by drivers who text from their cellphones is, unfortunately, a common occurrence. At the New Jersey law firm of Mazie Slater Katz & Freeman, we were named to the Best New Jersey Personal Injury Lawyers list by the Best Lawyers in America publication. Our team has extensive experience in handling lawsuits where the accident was caused by the driver texting or using a cell phone. We will protect the rights of people who were injured in a car accident caused by a distracted driver, whether that person was operating a car, truck, bus or tractor-trailer.
Head-On Collisions: Head-on collisions are usually the fault of one person. However, the results can affect many people as it is common for several vehicles to be involved in a head-on collision. The law firm of Mazie Slater Katz & Freeman has successfully represented car accident victims and their families throughout New Jersey, and we can help you as well.
Hit and Run Accidents: Motorists who flee the scene of a car accident face criminal and civil charges, including a possible misdemeanor or felony conviction depending on the severity of the accident and injuries. Our aggressive legal team will conduct a thorough investigation to identify the unknown motorist and hold them accountable. We'll review eyewitness reports, police documents and other information that can help us identify the hit and run driver and achieve justice for you.
Intersection Accidents: Intersections are some of the most dangerous places for motor vehicle drivers and their passengers, and the focus of many car accident lawsuits. Some 40 percent of the 5.8 million car accidents that happened in 2008 in the United States were at intersections. In New Jersey, these crashes are the third most common type of car/truck accident.
Motorcycle Accidents: Motorcycle operators and their passengers who are involved in accidents with cars and trucks may have grounds for filing a lawsuit in New Jersey for pain and suffering. At Mazie Slater Katz & Freeman, our New Jersey motorcycle accident lawyers have extensive experience fighting for victims of motorcycle accidents, and we make it our business to ensure that motorcyclists and their passengers get the compensation they deserve for the personal injuries they've suffered.
Multi-Car Crash Accidents: Multi-vehicle accidents can cause serious damage and result in personal injuries to New Jersey drivers and passengers. Because multiple cars and trucks are involved, proving who is at fault for the accident is usually complicated. Our New Jersey multi-vehicle accident attorneys are highly skilled in representing our clients who have been injured or killed in such accidents.
Rear-End Collisions: Even through New Jersey is a no-fault state, the driver in the rear is presumed to be at-fault. Damages for pain and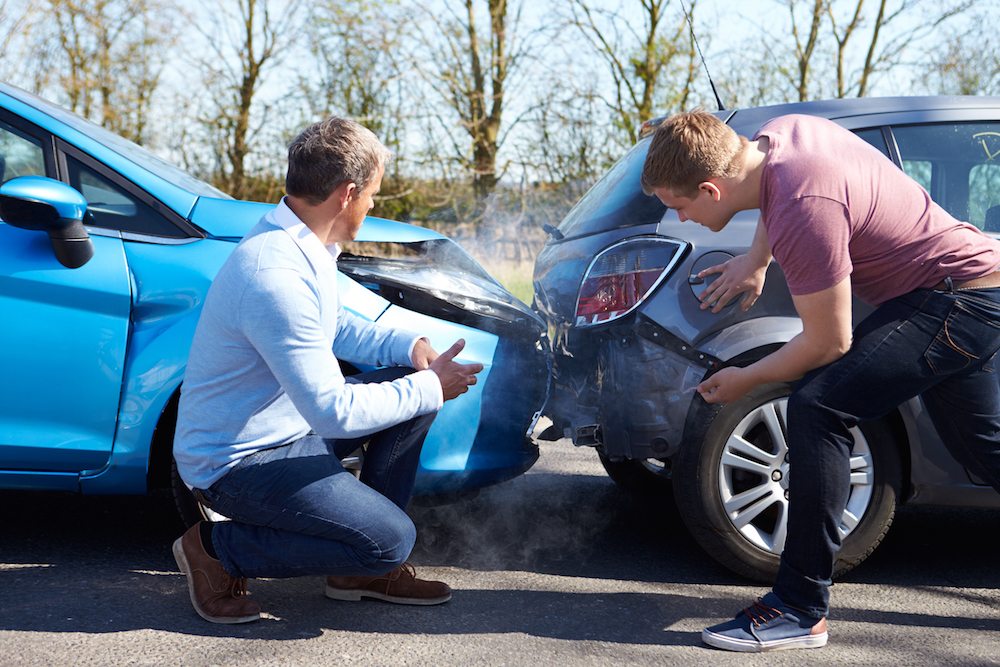 suffering, loss of consortium and lost wages can be recovered in a civil lawsuit. As aggressive and highly experienced New Jersey car accident lawyers, we will protect your interests and collect all possible damages from the responsible driver who caused the rear-ended car accident.
Rollover Accidents: The New Jersey lawyers at Mazie Slater Katz & Freeman are experts in handling product liability lawsuits involving personal injuries caused by rollover accidents of a car, SUV or truck. No vehicle accident is good, but some are far worse than others.
Single-Car Accidents: Our experienced New Jersey single car accident attorneys offer aggressive representation to recover damages for personal injuries and other damages. If you or a loved one were injured in a single car accident, contact the New Jersey law firm of Mazie Slater Katz & Freeman. We'll respond as soon as possible to discuss your case while you concentrate on your recovery.
Side Impact: These type of accidents occur daily on New Jersey roads and are particularly dangerous whether they involve same-direction sideswipes, opposite-direction sideswipes or the infamous right-angle "T-bone". Injuries from these types of car accidents are often severe because the sides of vehicles afford very little protection.
Spinal Cord Injuries: Our New Jersey personal injury lawyers recognize that victims of car accidents who are rendered paralyzed need aggressive representation to pursue compensation for the emotional stress, pain and suffering, mental anguish, and loss of enjoyment of life they experience. Furthermore, it is important for victims to seek financial security for the lifetime of future medical care needs and loss of earnings that can be devastating to the victim and their family. At Mazie Slater, we specialize in handling lawsuits where the personal injury victim is paralyzed. We have handled many such lawsuits in NJ, and we have recovered tens of millions of dollars for our paralyzed clients.
Tractor Trailer Accidents: At Mazie Slater Katz & Freeman, our aggressive New Jersey tractor-trailer accident attorneys have extensive experience handling truck accident cases. We have been named to the Best New Jersey Personal Injury Lawyers list by the Best Lawyers in America publication for a reason. We are prepared to take on your case and recover maximum compensation for your personal injuries or loss.
Wrongful Death Accidents: Our New Jersey wrongful death car accident lawyers have recovered tens of millions of dollars in successful settlements and jury verdicts on behalf of the estates of victims of wrongful death in all types of car accident cases, such as the $5 million confidential car accident settlement for the wrongful death of a child and the $3.55 million settlement for a tragic car accident resulting in the death of a child.
Car and Bus Accidents Causing Traumatic Brain Injury: Sometimes car accident victims suffer traumatic brain injuries or TBIs. We have extensive expertise in handling brain injury cases and we have won tens of millions of dollars for victims of TBI, such as a confidential $34 million settlement for a man who suffered a severe anoxic brain injury.
---
Did the Car Accident Cause Serious Injury?
Brain Injury, both traumatic (TBI) and acquired (ABI) are life-changing events.
Spinal Cord Injury, including Paraplegia, Quadriplegia, Hemiplegia, and more.
Chest Injury, affecting ribs, heart and/or lungs.
Fractures or Broken Bones caused by trauma.
Internal Organ Damage to the spleen, kidneys, liver, bowels, etc.
Joint Injury in the knees, ankles, wrists, shoulders, elbows, etc.
---
Understanding the New Jersey Car Accident Laws
Accidents happen, so understanding how to protect yourself and your family in a time of crisis is essential. Every driver should have a general knowledge of auto accident laws in their specific state. For New Jersey residents, awareness of the No-Fault system and comparative negligence laws can help you and your family acquire the compensation you deserve after a personal injury. Keep in mind, New Jersey has a statute of limitations on filing a personal injury lawsuit against an at-fault driver. Don't waste time, contact Mazie Slater Katz & Freeman for a free consultation.
New Jersey Car Insurance Law

Because New Jersey is one of several no-fault states, car accident victims can recover compensation in one of two ways. First, a lawyer can initiate a no-fault claim against the driver's own insurance company. It is common for carriers to limit benefits for medical expenses, rehabilitation, and ongoing care, even when the driver has Personal Injury Protection (PIP) insurance. Property damage claims are covered by collision insurance. If these options do not work, your lawyer can file a personal injury lawsuit against the other driver before the two-year statute of limitations ends.
Follow these guidelines after a car accident to protect your legal rights:
Exchange information with the other driver or drivers.
Get the driver's policy number, carrier, plate number, and vehicle information.
Identify eyewitnesses and copy their contact info.
Contact local law enforcement or 9-1-1.
Do not reveal the details of your insurance coverage.
Never sign insurance documents before contacting a qualified lawyer.
Take pictures of the accident scene to document damage.
Never admit liability.
Car accidents are a leading cause of serious injuries and personal injury lawsuits in New Jersey. Our firm will completely manage your case. Our approach is to be very aggressive from the outset — and to keep the pressure on the defendant throughout the lawsuit. We will interview witnesses, take photographs of accident scenes, and perform similar tasks. In addition, where appropriate, we hire certified accident reconstructionists to act as our experts in reconstructing the accident. Throughout the entire process, our lawyers will work to ensure that your legal rights are protected, and that you receive the best possible representation — and recovery.
No-Fault Law
New Jersey uses the no-fault system, in which the insurance policy for each driver covers that driver's medical expenses regardless of fault. This law is designed to protect healthcare providers and curb litigation. However, if you have been seriously injured in an auto accident, contact Mazie Slater Katz & Freeman to learn how you can get the compensation you deserve.
Comparative Negligence Law
Comparative Negligence provides a way to allocate fault between parties in an auto accident when the answer to this question is not entirely clear. Before filing a lawsuit in court, consider having an attorney from Mazie Slater Katz & Freeman review the merits of your claim, with no cost or obligation.
---
NJ Car Crash Lawsuits
At Mazie Slater Katz & Freeman, we specialize in protecting the rights of car accident victims and fighting to recover damages for personal injuries and other losses. Our investigation team will assess your insurance policy, visit the site, take photos, document your injuries, and provide the most aggressive and effective legal representation. If you or a loved one were injured in a car accident, contact our New Jersey car accident lawyers. We'll respond as soon as possible to discuss your case at no cost to you.
Garden State Parkway Accident Lawyers
The Garden State Parkway (GSP) welcomes tourists, travelers and drivers across New Jersey. This transportation artery spans more than 172 miles from the New York state line at Montvale to the southernmost tip of New Jersey. The Parkway was built in 1947 and is managed by the New Jersey Turnpike Authority. While trucks and commercial vehicles are prohibited north of Exit 105 at Asbury Park, car and pedestrian accidents are common throughout the 172-mile highway. High-speed crashes related to distracted driving and unsafe speeds are common, particularly during Memorial Day, Independence Day and Labor Day. Some common causes of accidents on the Garden State Parkway are:
Toll plaza incursions
Unsafe lane changes
Excessive speeds
Distracted driving/texting while driving/cell phone use
Aggressive driving
Alcohol use/drunk driving
As aggressive accident lawyers, we take note of the troubling statistics for fatal accidents on the Garden State Parkway. Middlesex, Essex and Monmouth counties have a disproportionate rate of fatal car and truck accidents. In 2011, 11 deaths from automobile and truck accidents occurred on the GSP in Essex County. This includes two pedestrians, four passengers and five drivers. Middlesex had five fatalities during the same period, including four drivers and one passenger being killed in car and truck collisions.
New Jersey Turnpike Accident Lawsuits
Our New Jersey automobile accident lawyers have handled multiple New Jersey Turnpike accidents resulting in personal injury and wrongful death of our clients, such as a $1.47 million settlement for a man killed by a tractor-trailer on the New Jersey Turnpike. As some of New Jersey's top personal injury attorneys, we have the expertise and accident investigators needed to present your case and achieve the best possible outcome by ensuring that you're compensated for injuries, medical bills, pain and suffering and lost wages. We have also been named to the Best New Jersey Personal Injury Lawyers list by the Best Lawyers in America publication.
Hit and Run Accident Lawyers NJ
Our NJ law firm has a long history of investigating complex auto accidents and securing record-setting settlements on behalf of accident victims in Essex County and all parts of New
Jersey. We can help drivers file a no-fault insurance claim or recover uninsured motorist benefits. If this coverage isn't available, we'll pursue a property damage case through New Jersey's Property-Liability Insurance Guaranty Association (NJPLIGA). Alternatively, we'll file a civil lawsuit to recover damages for personal injuries and other damages. In cases involving New Jersey accidents resulting in wrongful death, we can help the victim's estate recover damages in a wrongful death lawsuit.
Mazie Slater Katz & Freeman, based in Essex County, New Jersey is among the most prominent trial law firms in New Jersey, its attorneys having won hundreds of millions of dollars for its clients. We understand that you may have questions not answered on our website, so we encourage you to call us at 973-228-9898 to discuss your auto injury claim. One of our experienced team members will contact you as soon as possible to review your case and pursue a recovery.
---
Auto Accident FAQs
Q: What should I do after I being involved in a car accident?
A:
1. Evaluate the scene
2. Call emergency personnel.
3. Take photos of the accident scene
4. Wait for police to arrive.
5. Wait to be evaluated by a medical professional.
6. Seek appropriate medical treatment as soon as possible.
7. Contact your insurance company.
8. Contact an attorney.
For more information on the initials steps after a car accident.
Q: Can I recover for personal injuries and damages I suffered as a driver in an automobile accident?
A: Yes. You can bring a civil lawsuit against any other driver who is at fault for a car accident for non-economic damages (pain and suffering, loss of enjoyment of life) and economic damages (property damage, lost wages, future lost wages, special damages).
Q: Can I recover for personal injuries and damages I suffered in a car accident if I was a passenger in one of the vehicles?
A. Yes. You can pursue a claim against any of the drivers at fault for an automobile accident, even against the driver of the vehicle in which you were a passenger.
Q: Can I recover for personal injuries and damages suffered in a car accident if I was a pedestrian struck by another motor vehicle?
A. Yes. The same rules apply as if you were an occupant of a vehicle at the time of the accident.
Q: Can I recover for property damage suffered in an automobile accident against another driver?
A: Yes. Under New Jersey law, property damage is almost always paid for by either your or the other party's insurance company depending on who is at fault. If your insurance company pays for it, you will have to pay the deductible on your policy, however, if the other party's insurance company pays, they will pay the entire cost of repairs/replacement and reimburse your insurance company for any payments that have already been made on the repairs and you for any amount of deductible that you may have already paid. As to a rental car, whether or not your insurance company pays for it depends on your insurance policy benefits, but if the other party is at fault, you can add the cost of the rental car into your claim for damages against the at fault driver.
Q: Who pays my medical bills if I am in an automobile accident, car accident or truck accident?
A: Your own automobile insurance company will pay your medical bills if you are involved in an accident up to the PIP limits contained on your insurance policy. If your PIP benefits have been exhausted, your health insurance company may pay for your medical bills.
Q: What is "PIP?"
A: PIP stands for "Personal Injury Protection." This is your medical coverage for injuries you (and others) suffer in an auto accident. PIP pays if you or other persons covered under your policy are injured in an auto accident. It is sometimes called "no-fault" coverage because it pays your own medical expenses no matter who caused the accident. PIP has two parts: (a) coverage for the cost of treatment you receive from hospitals, doctors and other medical providers and any medical equipment that may be needed to treat your injuries; (b) reimbursement for certain other expenses you may have because you are hurt, such as lost wages and the need to hire someone to take care of your home or family.
Q: What is the "verbal threshold" or "limited tort threshold" on my automobile insurance policy?
A: The verbal threshold or limited tort threshold is an option selected by most policyholders in New Jersey to lower the cost of the insurance policy. If selected, the verbal threshold requires the injured party to show objective medical evidence of a permanent injury in order to maintain a personal injury lawsuit in New Jersey without risk of dismissal by the Court.
Q: What are my legal options if the other driver's insurance policy is not enough to cover my personal injuries and damages?
A: You can pursue a recovery if your policy contains underinsured (UIM) motorist benefits. For example, if you sustain injuries in a New Jersey automobile, bus or truck accident valued at $100,000 and the other driver only has $15,000 in bodily injury coverage, you can pursue a claim against your own insurance company if your policy contains underinsured motorist coverage in excess of $15,000.
Q: What are my legal options from the perspective of a New Jersey car accident lawyer if the other driver has no insurance or I am not sure of the identity of the other driver?
A. If the other driver does not have insurance or you are unable to identify the other driver at fault in the accident because of a "hit and run" or "phantom vehicle", you can pursue a claim against your own insurance company if your policy contains uninsured motorist benefits (UM).
Q: How long do I have to file a personal injury lawsuit against another driver in New Jersey?
A: The statute of limitations in New Jersey for a personal injury lawsuit is two years from the date of the accident, unless you are a minor under the age of eighteen. In other words, you must file your lawsuit with the courthouse within two years or you will be forever barred. In other states, the statute of limitations may vary so it is important to contact an attorney as soon as you are in an accident in order to preserve your rights.
Q: Do I need to notify my insurance company even if the other driver is at fault?
A: Yes. In order to fully obtain the benefits and rights under your automobile insurance policy, you must put your insurance carrier on notice of the accident, regardless of who is at fault.
Q: What should I do if the other driver's automobile insurance company contacts me?
A: Do nothing. Direct that individual to speak with your attorney and let your attorney know that you have been contacted and who contacted you. Do not become a victim of an insurance company's attempt to coerce you into giving a statement that can be used against you.
Q: If I decide to sue, how do I pay for my New Jersey attorney?
A: Almost every attorney in New Jersey will accept the case on a "contingency fee" basis. Under a contingency fee arrangement, an attorney will not be paid unless you recover damages, either by a settlement or jury verdict. If you recover nothing, you are not responsible to pay the attorney. If there is a recovery, the New Jersey attorney will take a specified percentage of the recovery as a fee and will be reimbursed off the top for any expenses advanced for the litigation. The client is responsible for the payment of all outstanding medical bills and liens regardless of whether there is a recovery.
If you or a loved one has been the victim of a serious motor vehicle accident, please contact Mazie Slater Katz & Freeman and we will contact you within twenty-four (24) hours to discuss your car accident case.
These questions and answers should not be relied on, are not intended to constitute legal advice, and are for informational purposes only.
---
Mazie Slater Katz & Freeman
103 Eisenhower Parkway, 2nd Floor
Roseland, NJ 07068
Phone: 973.228.9898
Fax: 973.228.0303